List Of Best Hindi web-series on Disney+ Hotstar VIP
Editor's note: We will keep adding to this list of the best Hindi TV shows on Disney+ Hotstar VIP as and when new ones are announced.
1. Criminal Justice
Gener : Thriller
First episode date: 5 April 2019
No. of episodes: 18
IMBD RATTING : 8.1
Criminal Justice is an Indian Hindi-language crime thriller legal drama web series for Hotstar Specials, based on the 2008 British television series of the same name, written by Shridhar Raghavan and was directed by Tigmanshu Dhulia and Vishal Furia.
2. Special Ops
Gener : Thriller
First episode date: 17 March 2020
No. of episodes: 8
IMBD RATTING : 8.6
This is a Hindi espionage thriller on Hotstar that tells the story of a RAW agent (Kay Kay Menon) who believes that a single terrorist has perpetrated a series of terror attacks. He is under an official inquiry though, for his excessive use of government funds. The series unfolds as Menon describes how he selected and trained a number of special operatives to bring down the anarchist behind some of the biggest terrorist attacks in India and around the world. The eight-part show is a bit stretched, but Menon keeps the mood going and makes this an overall satisfactory watch.
3.Hostages
Gener : Mystery
First episode date: 31 may 2019
No. of episodes: 22
IMBD RATTING : 6.9
This is a crime thriller Hindi TV series on Hotstar wherein a doctor's family is taken hostage by four masked men a night before she's scheduled to operate on a highly influential and powerful politician. She can either save her patient or her family, but instead, she chooses to take on her tormentors and turns the tables on them. Hostages stars some pretty well-known TV celebs like Tisca Chopra, Ronit Roy, Parvin Dabas, Aashim Gulati, and Mohan Kapoor. The plot of this TV series is not something to write home about, but it's fast-paced and keeps you at the edge of your seat right up till the end.
4.Aarya
Genres: 
Crime film, Drama
First episode date: 19 June 2020
No. of episodes: 9 
IMBD RATTING : 7.9
This is the story of a happy, well-to-do family in Rajasthan that is rocked by the unexpected murder of its patriarch (Chandrachur Singh). It's now time for the matriarch (Sushmita Sen) to take matters into her own hands and make sure her family survives the drug war it's been forced into. She can't trust anyone, not even her closest friends. Will she and her kids make it out alive? The nine-part thriller series is one of Hotstar's best original productions. Yes, it can get a bit over the top at times, but watch it just for Sushmita Sen's big acting comeback.
5.

PariWar
First episode date: 23 September 2020
No. of episodes: 6
IMBD RATTING : 6.8
Want to lighten the mood? Then you should definitely check out PariWar on Disney Plus Hotstar. The comedy series follows a group of quarrelsome family members who gather in their hometown in hopes of inheriting a lucrative piece of land. Little do they know that the inheritance is but a ruse created by the family patriarch to reunite them and solve their petty differences.
6.

Out Of Love
First episode date: 22 November 2019
No. of episodes: 8+8
IMBD RATTING : 7.1
Out of Love is a two-season series on Hotstar based on BBC One's Doctor Foster. It stars Purab Kohli and Rasika Dugal in the lead roles of husband and wife duo Meera and Akarsh. The two are shown happily married until Meera finds a woman's hair on Akarsh's scarf. She starts sleuthing around to figure out if Akarsh is having an affair with someone. When she finds out that he is indeed involved with another woman, she falls into chaos and makes several bad decisions, only to come to a point where she must decide between forgiving, forgetting, or fighting with her better half.
7. City of Dreams
First episode date: 3 May 2019
No. of episodes: 10
IMBD RATTING : 7.6
This Hindi political drama on Hotstar has been created by Nagesh Kukunoor and is one of the best shows to watch on this list. The plot of the TV series is centered around a fictional political dynasty in Mumbai. An assassination attempt is carried out on the patriarch and one of the most influential leaders of this family, following which a power struggle begins between his daughter and son, blurring the lines between what's moral and immoral.
8. Malgudi Days
First episode date: 24 September 1986
No. of episodes: 54
IMBD RATTING : 9.5
Go all the way back to the 80s with Malgudi Days on Disney Plus Hotstar. The cult classic Hindi series is based on short stories written by famous Indian author R. K. Narayan. All the 54 episodes of the original series are now available to stream on Hotstar for those of you craving some nostalgia.
9.The Office 
First episode date: 15 September 2019
No. of episodes: 27
IMBD RATTING : 6.4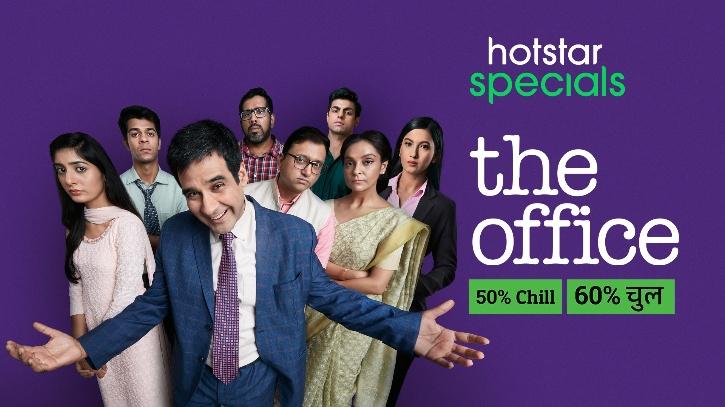 The office is inspired from the UK the office series and it depicts the life of office in a comic manner. This show quite popular in the foreign countries and in India, the interpretation is doing well.
Cast: Mallika Dua, Priyanka Setia, Gauahar Khan
10.OK Computer
First episode date: 26 March 2021
No. of episodes: 6
IMBD RATTING : 5.4
OK Computer', about the investigation of a murder committed by a self-driving car, has a street-play approach to science-fiction. OK Computer is a masterpiece. It is a remarkably prescient treatise on time and technology, a uniquely impressionistic mood piec.
11.Live Telecast
First episode date: 12 February 2021
No. of episodes: 7
IMBD RATTING : 4.2
Live Telecast is a 2021 Indian Tamil-language horror thriller web series written and directed by Venkat Prabhu and the series features Kajal Aggarwal, Vaibhav Reddy, Anandhi, Ashwin Kumar Lakshmikanthan, Daniel Annie Pope and Priyanka Nair in the lead roles.
12.The Legend of Hanuman
First episode date: 29 January 2021
No. of episodes: 13
IMBD RATTING : 9.4
The Legend of Hanuman is an Indian animated Epic fantasy streaming television series created by Sharad Devarajan, Jeevan J. Kang and Charuvi Agrawal for Hotstar. The series produced by Graphic India premiered on January 29, 2021
13.November Story
First episode date: 20 May 2021
No. of episodes: 7
IMBD RATTING : 8.2
November Story is an Indian Tamil-language crime thriller web series for Hotstar Specials, directed by Indhra Subramanian. Produced by Vikatan Televistas the series stars Tamannaah in the lead role along with Pasupathy M. and G. M. Kumar.